Published Date: 10 Oct 2014 THE NETIZENS – @ManushiGandhi (DNA)
Step 1­ Buyer expresses interest after which the seller sends a business teaser.
Step 2­ A non­disclosure agreement is signed between the prospective buyer and the seller.
Step 3­ Business memorandum is shared with the buyer.
Step 4­ The buyer may consult an industry expert and seek their advice.
Forget mobiles… Even businesses can be bought & sold online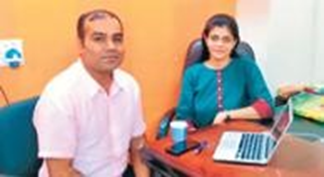 Bhavin and Priya Bhagat, founders of Indiabizforsale.com
The website charges for listings, and there are different membership charges for buyers, sellers and brokers. Priya Bhagat, co­founder, indiabizforsale.com
Ahmedabad: Buying and selling of apparels, appliances, electronics, books, cars and  other  products online is already popular in India. An Ahmedabad couple, however, has taken online marketplace a step further, by creating an e­commerce site where instead of consumer products or services, one can buy     and sell entire businesses. Bhavin and Priya Bhagat's website, www.indiabizforsale.com, also provides opportunities to venture capitalists for making investments, and helps start­up businesses seek venture capital.
The website earns primarily from subscriptions and classifieds. Priya says: "The website charges for listings, and there are different membership charges for buyers, sellers and brokers. We charge more from brokers as they can create 20 listings by paying for 3 months." The company already employs eight people and is planning to expand operations shortly.
The couple started their business in January 2013, and within one and a half years, at least 300 members have registered as sellers on their website. The marketplace also has 650 registered buyers looking for businesses to purchase, and 440 business brokers.
Within a short time period, the website has been able to close two deals and three are in their final stages. One deal was closed at Rs35 lakh and the other at Rs 85 lakhs. Bhavin informs, "There have been a few other deals made through our website, but we cannot claim full credit, as there were brokers involved on those deals. Mostly companies do not like to reveal their identities and deal through brokers."
Priya says, "Usually when someone is trying to sell their business, people think in a negative way, but there can be various reasons for selling a business. Sometimes the business owner may be retiring and his next generation is not interested in doing that business, so the best thing to do is to sell it off."
The couple firmly believes that instead of trying to sell a business when it is underperforming, one should plan selling a business when it is at its peak, so that it fetches a good value that the owner can invest in some other business.
The deals made through this website have to follow a 4­step procedure to build up trust between buyers and sellers. Firstly when a buyer shows interest, a business teaser of 3 ­ 4 pages is sent to him. In the next stage, a non­disclosure agreement is signed between both the parties, and a detailed business memorandum is shared between the parties. The business memorandum provides all required details about the seller's business including sales, growth prospects, balance sheets etc. Once the business memorandum is signed, the buyer has an option to call in a consultant.