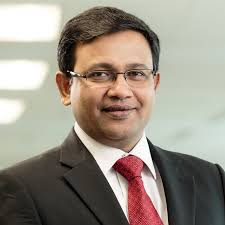 What makes corporate professionals take the plunge into investing in startups & SMEs? What happens behind the scenes in the making of a first-time investor? And what is it, that keeps them coming back to the vibrant world of technology investments?
In this article, we will answer these questions and more… We are in conversation with Narsingh Chaudhary, who is currently based in Singapore, shouldering mission-critical responsibilities as the Senior Vice President and Head of Strategy & Business Excellence at a leading global electronics manufacturing and distribution firm. Incidentally, his first investment in personal capacity was facilitated by Indiabizforsale.com, through our flagship deal-discovery event – Business Buyer's Club – in Ahmedabad. And since then, there has been no looking back…
In his own words, "entrepreneurial spirit & living the ownership culture" are what drive Narsingh to make a difference to the business world everyday.  His stellar career spans over two decades with extensive global experience as a Segment CEO, Global Sales Head, & Senior Project Management professional of different industrial projects. Through his contribution, he has  added palpable strength & value to organizations, propelling them towards the maximum realization of business growth potential & increased market share.
As he recounts to us his journey of becoming an active investor in startups, he takes us back a couple of years earlier when he first decided to scout business opportunities in personal capacity. As a seasoned strategy and growth professional with a keen eye for corporate growth investments, this was home territory for Narsingh. Like any other investor, his primary objectives were simple – maximize returns, minimize and distribute risks, and create a pool of viable investment options for continuous engagement. However, this was not all. For him, to partner with an entrepreneur who shares his philosophy and vision, and to invest in a business where he could bring much more than money to the table, was of equal importance. "It never appealed to me to bring mere capital to a business. I wanted to pool in my personal experience, knowledge, and network strength to truly catapult a business to the next level," he adds. In fact, right from the beginning, he demonstrated a distinctive clarity in following his own preferences. As an innovation enthusiast, technology businesses took precedence. It was also important for him to stay in geographical proximity to his investee. This meant that India and Singapore emerged as the countries of his choice.
He began the sourcing process by tapping into his network of peers and fellow investment professionals, reaching out to his contacts at globally renowned VC firms, and scanning various cutting edge sectoral innovations. Then, a year later, he met Bhavin Bhagat, co-founder at Indiabizforsale.com. At that point, Indiabizforsale's Business Buyer's Club (BBC) had already left its mark in Mumbai, while in Ahmedabad, prestigious partnerships for the event with FICCI and GCCI had materialized. Intrigued by the concept, he flew to India and attended BBC Ahmedabad. It is here that he met Ruchit Surati, founder of the technology business Locanix, which also happens to be Narsingh's first investee startup.
Locanix is an innovative SaaS solutions tech-business using GPS location information ranging from corporate fleet management to consumer vehicle solutions, with core focus on safety, security and operational efficiency. Their solutions include smart tracking with analysis and insights, intelligent management of fleets, fuel monitoring and optimization, and tracking temperature in individual cargo holds to ensure safe transportation of perishable goods.
After top-line review and initial discussions for a period of about 6-7 months, Narsingh was able to narrow down his options into 2-3 businesses. Apart from Locanix, there was also an SME from apparel design segment that made it to the top. In the end, Locanix emerged as the clear winner. Narsingh shares with us the top three criteria that he uses to evaluate business opportunities at the foundational level-
1. How sincere and passionate are the entrepreneurs?
2. How do their vision and mission align with their ground realities in terms of financial health and operational efficiencies?
3. How favourable are the market conditions for the business to thrive and gain market share?
Locanix seemed to tick all his checkboxes, and thus, deal discussions commenced. Narsingh states candidly, "No entrepreneur will lay it all out in the open on day one. It takes time to traverse the curve together, develop shared trust and respect, and reach a point of mutual transparency." Indeed, with Locanix, this path was covered in reasonable time, and soon due diligence and valuation discussions made way into final deal structuring.
Recently, in August 2018, the deal was closed successfully. Looking back, Narsingh commends Indiabizforsale.com highly for the team's support and presence throughout, and for his expertise in enabling meaningful deal discussions. He also shares his desire to be in this space for the long haul. "Investing in just one startup doesn't satisfy my appetite. By tying up with the right companies, creating a diversified and complementary portfolio, and staying tuned with breakthrough technology, I believe I can add a lot of value to the aspiring frontrunners in innovation today, and be a part of carving out a better tomorrow."
Liked this article? Stay tuned to us for more such exclusive posts!